Perfect flowers to send this Valentine's
The Manor Florist team are always looking to create new and exciting flowers for you lovely bunch out there! The great thing about being an independent florist in Cambridge is we get to put our creative hats on every single day and design bespoke flowers that you won't get anywhere else. We carefully source the freshest blooms, add a dash of artisan magic and a sprinkle of our luxury branding ... and the result is show-stopping flowers.
And Valentine's Day is no different, we simply love offering a beautiful range of bespoke Valentine's Day flowers to help you spoil your true love on February 14th. Whether it is ruby red roses to send your other half, bunch of blooms for your BFF (Galentine's Day is officially celebrated on Thursday 13th February this year!) or some luxurious flowers to treat your mum, The Manor Florist is your go-to florist in Cambridgeshire.
We take a peek at our new Valentine's Day Flowers Collection, and share some of the stories behind the flowers.
Long Stemmed Roses
Who can say no to long stemmed roses? Perhaps the most recognised romantic flower in the world, sending Roses have long been a symbol of deep emotions and love. Red roses represent everlasting love which is why they are so popular to send on February 14th.
Our Long Stemmed Roses bouquet is one of our best sellers, especially in February! We offer the option of red roses, pink roses or white roses so you can pick your one true loves' favourite rose colour. Hand-tied by our expert florists, who add lush green foliage for a full texture and scented bouquet of flowers.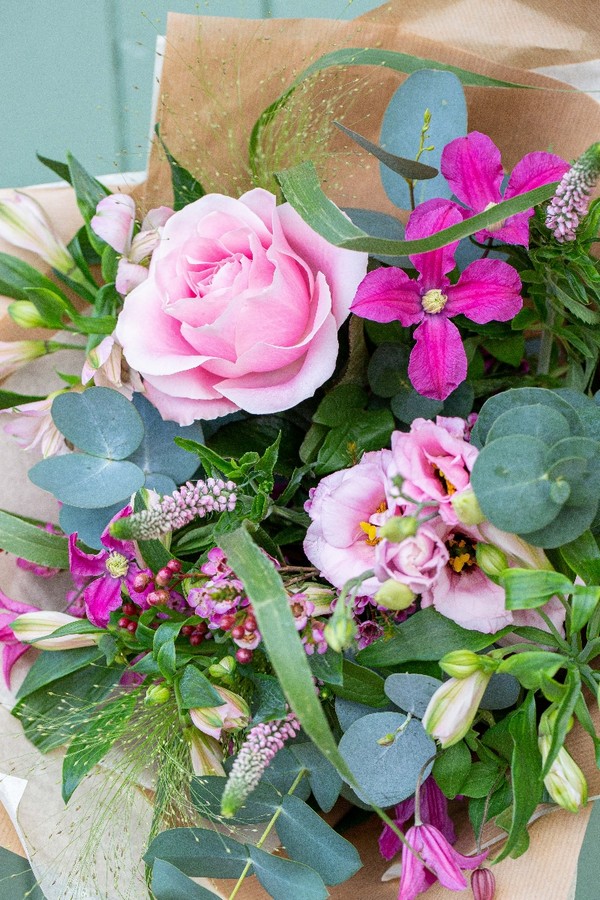 Shades of Pink
Red is normally the traditional colour we associate with Valentine's, but we know a fair few pink lovers out there! That's why we especially designed Shades of Pink to capture romance in pretty pink shades.
Our florists use the very best seasonal stems available on the day, which can include delicate pink roses and pink veronica. And to finish we use gorgeous greenery such as eucalyptus which gives the bouquet a full and textured look. Shades of Pink bouquet is styled in a beautiful relaxed hand-tied way, giving it a flowing and romantic feel.
White and Green
Stylish and elegant, our White and Green hand-tied is the perfect alternative choice to red roses. Artistically crafted in our shop, our florists use blooms such as white roses, and sweet pea along with lush foliage for texture and volume.
Sending white blooms signifies purity, honesty and perfection - which is why they are such a popular option for wedding flowers – making them a beautiful option for Valentine's Day.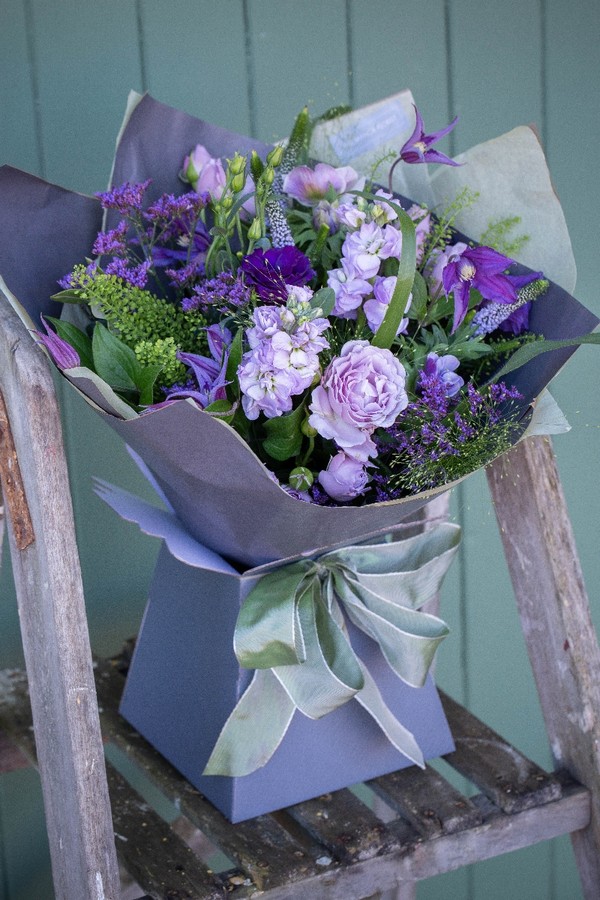 Shades of Purple
This divine bouquet is perfect if your Significant Other loves purple blooms! Our flower team use the finest flowers in tones of purples, lilacs, blues and creams to create Shades of Purple hand-tied.
Seasonality can change what stems we use, but often it is a gorgeous combination of purple lisianthus, anemone, delicate roses and blue iris - and of course not forgetting a touch of lush foliage.
Order bespoke Valentine's flowers from your local florist
The Manor Florist is ideally situated Burwash Manor Barns on the outskirts of Cambridge – easy for you to pop by and pick up a bunch of seasonal stems or we offer same day local delivery. However it is worth keeping in mind due to high demand, Valentine's orders need to be placed before 1 pm on Thursday 13th to ensure delivery the next day, which means you can have your flowers delivered on Valentine's Day itself! Simply choose your flowers, select the date for your flower delivery; add your personal card message and we take care of the rest.
After some flower advice? Get in touch today or give our expert team a call on 01223 260049 and we will be happy to help!